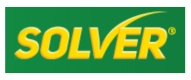 Solver has been supplying trade painters with great quality products, service and advice for generations. In fact, the company was established in Adelaide in 1920 and we've learnt what's needed to succeed in the competitive building industry. You need to have products that perform, be true to your word and you need to fix small problems before they become big ones. We are not perfect, but we go the extra mile so you can keep your customers happy and together we prosper.
Our products include
Solver Ultra
Made for the trade by experts in the trade. Solver has been manufacturing premium quality paint for the trade professional for almost a century.
Solver Ultra is a professional paint system formulated with Ultra Finish Technology for superior application and a professional finish.
Each product is formulated to provide specific performance benefits for the trade.
Primers Sealers And Undercoats
Metal Primers
Painting metal surfaces requires special preperation of the surface. Solver metal primers are specifically made for use on a wide range of metal surfaces.
Timber Primers
Solver's range of timber primers cover any requirement, from fast drying to long lasting and specialist system appplications.
Wall Preps – General
Solver's range of undercoats is made to compliment the topcoats for long lasting performance.
Wall Preps – Specialist
Solver's range of specialist undercoats are specifically made for exotic substrates or difficult envioronmental conditions.
Topcoats
Ceilings
Solver's range of ceiling paints cater for every need – from quick drying to super flat and come in pure white, toned white or can be tinted to a wide range of designer colours.
Enamels and Trims
An excellent range of water based and solvent trims suitable for interior or exterior applications.
Walls
Solver's range of interior broadwall topcoats has everything the trade painter needs, including the Ultra Premium, ease of application qualities of Maxi Wash and our SolverMaster trade range with products to suit every application.