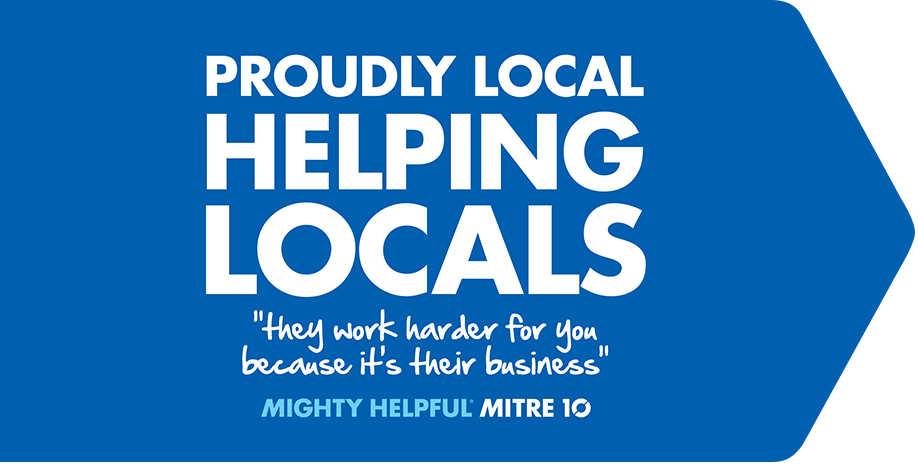 We're the Mighty Helpful independent hardware store
We're the Mighty Helpful independent hardware wholesaler committed to supporting retailers providing the best brands at great prices!
The Pink family has been a part of the Clare community for over 160 years. The business has seen many changes both within itself and the district of Clare.
Mitre 10, formed in 1959, is the second largest player in the Australian home improvement and hardware industry. The Mitre 10 group comprises:
Australia's only independent home improvement and hardware wholesaler to the industry.
An iconic independent and local retail network of over 430 Mitre 10 and True Value Hardware stores.
Supported by the wholesaling part of the business, the network of over 430 Mitre 10 and True Value Hardware stores are privately owned, passionately operated and committed to helping every customer with expert advice. These stores have been providing millions of homeowners with solutions to their home improvement projects for over 50 years. They are part of local communities throughout the country with 70 percent of the stores located in regional Australia.
Mitre 10 also supplies over 400 non-branded independent stores.
Mitre 10 joined the Metcash family in March 2010, after Metcash Limited acquired a 50.1% interest in the hardware wholesaling business. In July 2012 the purchase of the remaining 49.9% was announced; making Mitre 10 100% Metcash owned.

160 Years Young, Pink's Mitre 10, Clare Valley, SA
Wayne Pink stars in National Mitre 10 Advertising Campaign
Our Awards
Pink's Mitre 10 has been very fortunate in winning several Mitre 10 and HASA awards. While we are not in the business of winning awards, we are in the business of serving our customers and our community, it is a bonus that we have been able to achieve these milestones.
Our awards have included
Mitre 10 Regional Store of the Year Award:  2012, 2013
Mitre 10 State Store of the Year Award:  1988, 1990, 1995, 1996, 1997, 1998, 2001, 2006, 2007, 2009, 2010
Mitre 10 National Store of the Year Award:  2009
Hardware Association of South Australia Store of the Year Award Under 1000 sqm:  2003, 2007, 2011-12, 2013-2014
Hardware Association of South Australia Store of the Year Overall Winner:  2013-2014